Armoured patchcord examples
alker can provide stainless steel armouring for fibre optic assemblies in a range of diameters.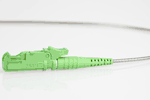 For applications which have weight limitations or are within a confined space, our Micro Armoured range is the ideal solution. At 1.5mm diameter, this specifically designed armouring offers the high level of protection required.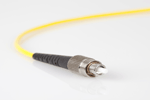 By adding a PVC jacket to the Micro Armoured alker are able to offer the Jacketed Armoured range. With these assemblies you get the protection of the 1.5mm stainless steel armouring and the added ruggedisation of the 3mm PVC jacket.
For a more rugged applications we have our Standard Armour range with 5mm stainless steel armouring for either single or multi-fibre assemblies. This range is the perfect choice for fibre optic looms or harnesses, which can include both fibre and electrical contacts.
For the harshest of environment alker offer the Premium Armour range with 9mm stainless steel armouring. Providing the best protection available for a fibre optic assembly your patchcord will be able to withstand event the most demanding applications.
We are also able to armour Polarisation Maintaining fibre.
With high extinction ratios, our rigorous orientation specification and added protection within the armouring all allows PM fibres to perform in environments not previously possible. The orientation of the fibre is available in fast, slow or custom axis in either FLAT, UPC, 8° FLAT or APC polished finish.
If you require specialist fibre or have specific requirements for your armoured fibre optic asembly please contact us.
---
Phone number: 01342 870 941
Live Support :


Email us : sales
alker
co
uk