alker manufacture fibre optic feedthroughs (also called feed-throughs or penetrators) to allow optical fibre to pass through the wall of a pressure or hermetically sealed vessel permitting the use of test and monitoring equipment, probes, laser delivery systems, optical sensors and more while maintaining the integrity of the vessel.
We manufacture our feedthroughs to order in a range of designs covering CF (ConFlat flange), KF (Klein flange) and nut styles. Multiple channel, thick wall and bespoke feedthroughs can be undertaken and with our range of fibre on stock, we can offer competitive delivery schedules.
As standard, we manufacture our fibre optic feedthroughs from stainless steel (303, 304 or 316) allowing contact with a wide range of fluids and gasses due to its corrosion resistance properties. Fibre optic feedthroughs of anodised aluminium can also be ordered if it suits your environment.
All fibre optic connectors are mechanically polished ensuring excellent return loss and insertion loss performance.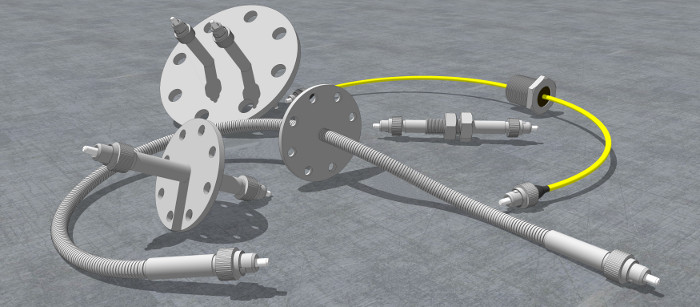 Connectors: FC UPC, FC APC, SMA 905, SMA 906, ST UPC
Fibre mode: Singlmode, Multimode and specialist fibres
Fibre size: 50um – 1000um
Wavelength range: UV/VIS and VIS/NIR
Styles: CF (ConFlat flange), KF (Klein flange) and Nut
Channels: Single and multiple
Uses: Laboratory testing, coating deposition monitoring, sensing, laser delivery and more
Connecting patchcords, adaptors and cleaning solutions can be purchased to match.
Please contact us on 01342 870941 or sales
alker
co
uk to discuss your requirements.