The high performance delivered by fibre optics systems has guaranteed their use today in a wide range of industries and a diverse variety of applications. However, along with their benefits comes a significant threat from contamination, the single largest problem in fibre optics.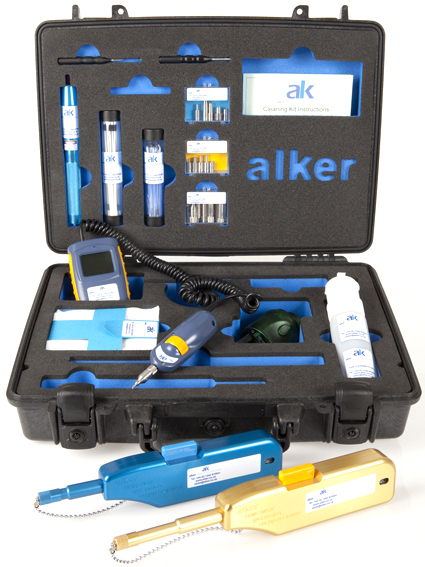 The alker CLEAN ME™ range of fibre optic inspection and cleaning kits use the latest technologies and processes (patent pending). They incorporate a WET 2 DRY™ cleaning system which concentrates cleaning fluid directly on the ferrule end-face in a single process, this neutralises any static build-up, softens contamination and aids the final cleaning process, leaving the ferrule end-face residue clean.
At alker we can customise a cleaning kit to suit your specifications.
Why do you need the facility to both inspect and clean fibre optic connectors?
At approximately 8 microns in diameter, the inner core of an optical fibre is the region along which the signal is transmitted. It is difficult to envisage how small that really is, but as an example, you would need over a hundred cores from a fibre optic cable to cover the full stop at the end of this sentence. It is no surprise therefore that contamination is a real problem, which if not addressed will make fibre optics the most vulnerable element of your system.

alker includes all the tooling needed to perform the WET 2 DRY™ cleaning process in our range of fibre optic cleaning kits. The hand held microscope in the kit makes inspection quick and safe.

Recently approved within