Expanding Test Capabilities
We are excited to share that here at Alker we are expanding test capabilities for our innovative products using EXFO solutions! We are enhancing our test capabilities as we continue to provide solutions supporting even the most rigorous fibre optic deployments, from outer space to underwater and deep underground. "We strive to provide our customers […]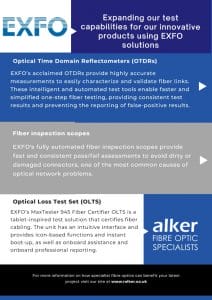 We are excited to share that here at Alker we are expanding test capabilities for our innovative products using EXFO solutions!
We are enhancing our test capabilities as we continue to provide solutions supporting even the most rigorous fibre optic deployments, from outer space to underwater and deep underground.
"We strive to provide our customers with bespoke solutions of the highest quality. Adding EXFO test solutions to our manufacturing lab will help ensure we continue to meet and exceed expectations now and in future," said Clair McMahon, Managing Director at Alker.
View the press release here».
Sign up for latest updates
Sign up to receive email updates on company and new product announcements, special promotions and more.