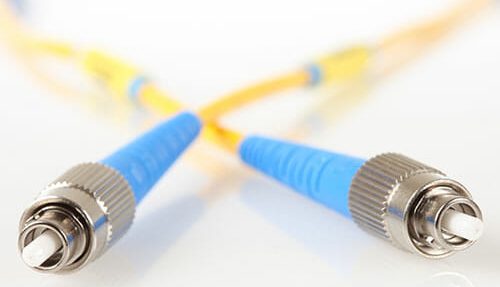 Alker fibre optic patch cord
The term fibre optic 'patchcord' is also referred to as a Jumper, Jumper cable, Lead, Assembly, Cable, Patch cable and more. They traditionally refer to a length of fibre optic cable which has been terminated at both ends with fibre optic connectors. Their aim is to lose as little light as possible, measured as a decibel (dB) loss or attenuation.
At Alker we have operated in the fibre optic field for over 35 years so if you have any requirement outside of our advertised ranges please contact us on 01342 870 941 and we will be happy to talk through your requirements.
Our Products
At alker we offer a range of standard patchcords and pigtails. These utilise common fiber optic patch cord connectors and optical fibre including 9/125 OS1 (OS2) Singlemode, 50/125 OM2,3 and 4 Multimode and 62.5/125 OM1 Multimode and are available in 1,2,3,5 and 10m configurations to suit most installation needs. If you require a bespoke patchcord or pigtail use our 'build your own' service.
In 5 easy steps, we will guide you through the available choices of 13 fibre optic connectors, 3 optical fibres modes and 5 ruggedisations. Ordering hybrid patch cords or custom fibre optic assemblies online has never been so easy and at no additional premium over our standard patchcord configurations.
Read More
Polarisation maintaining patchcords and pigtails are manufactured by terminating tight tolerance keyway fibre optic connectors onto Bow-tie, Panda and Elliptical PM fibre. This results in a Patchcord with excellent extinction ratio and insertion loss results.
High extinction ratios, typically above 20dB
Low insertion losses, typically <0.2dB
We supply Polarisation Maintaining Fibre and can offer termination to the largest range of connectors available to any specification, everything bespoke to your requirements right here in the UK. Full armouring service also available for use in harsh environments.
Globally Competitive
Our products are globally competitive and are designed for repair to extend the in-service life of our products.
Fibres available from:
Read More
Attenuated patchcords reduce the light transmitting through the fibre, reducing the insertion loss from anything between 1dB to 20dB. Higher dB values can be manufactured if required. Fixed attenuator – off-set splice.
Variable optical attenuator (VOA) can be adjusted from 1dB to 20dB.
Either fixed or variable attenuators can be terminated with most fibre optic connectors within our UK Termination House.
Read More
Angled Connector Patchcords
We have developed a standard connector range to exit the connector and go round a 90-degree bend, therefore shortening the overall length of the connector. This 90-degree bend can be orientated north/south/east/west as required.
Innovation, integrity and excellence are the pillars and values of Alker
Richard Alan Kershaw
Company Director
Contact Us
We look forward to hearing from you with our next challenge.
Alker Fibre Optic Specialists Ltd
7D Ladycross Business Park
Hollow Lane, Dormansland
Lingfield, Surrey
RH7 6PB
Sign up for latest updates
Sign up to receive email updates on company and new product announcements, special promotions and more.
-->